When:
May 15, 2017 @ 2:00 pm – May 21, 2017 @ 3:00 pm
2017-05-15T14:00:00+01:00
2017-05-21T15:00:00+01:00
Where:
Newbold House
Newbold House
111 St Leonards Rd, Forres IV36 2RE
UK

THIS EVENT HAS NOW SOLD OUT…
This revolutionary life empowering course supports a masterful direction of our primal life force and sexual potency and power to help deepen, embody & fully integrate, more respectful and vibrant relationship with ourselves and others.
Thousands of people on 5 continents have benefited hugely from this training over the past 10 years. You could be the next to receive the benefits as you join with other motivated individuals from a diverse background of experiences to create an intensely-satisfying learning journey, that will significantly impact your personal life, profession & direction.
Attendees include those from the various spiritual/sexual paths of celibacy, monogamy, and polyamory. The entire course is designed to support all individuals to find, feel, claim, and express their highest Life/Self expression.
Some people take this training for their own personal enrichment while others are interested in the profession of Sacred Sexual Practitioner or Educator.
Whatever your reason, it is a powerful immersion experience that awakens the healthy inner energies of polarity and brings them into sacred relationship in the heart of each participant. It gives a taste of how life can be when the life force is flowing, and we are free to be authentic in the way we live and love.
This training is aimed at all genders who are dedicated to evolving consciousness hand in hand with its deepest embodiment so together as a group and as humanity as a whole, we play our part in heaven on earth.
Central to this is full presence, personal & transpersonal awareness, personal empowerment, emotional intelligence, sexual health & wholeness, and a lifestyle which honours the interconnectedness of all things. Embracing one's shadow is one of the cornerstones & methods of reclamation, that assists to fuel personal transformation, liberation & expanded potential.
You will receive coaching and hands on experience in the areas of: emotional release, voice dialogue, neurological reprogramming, conscious communication, rituals of initiation, energy tracking, exploration into boundaries and introduction of rituals of initiation and a powerful sexual clearing and activation processes.
No prior knowledge of shamanism or sacred sexuality is necessary and people with previous experience are welcomed. Couples or singles of any sexual preference may attend. The greater mix of prior experiences the richer the training!
ISTA Level 1 is a container that will allow, invite and offer you the following:

Whatever your life situation is to stop, feel and take a look at yourself in a whole new way. This is an opportunity to wake up to your life.

It will invite you to take risks, meet and explore your edges in a safe container.

Provide you with essential life skills we all should have received as teenagers.

Provide a space for you to see, show and live from the you that lies beneath the mask. You will see more clearly where you are operating from ego, belief patterns of others and society.

It will show you where your inner masculine and inner feminine are immature, unhealthy or where they are at war and it will guide you to bring them back towards union, love and integration. This is huge!

It will invite you to reconnect to, master and to learn to love your emotional body and heart power, as well as your physical self.

It will show you your glorious energy being and share skills as to how to dance with this energy body alongside your physical body.

It will encourage you and show you how to seek wisdom from your body and heart, instead of your mind.

Provide powerful opportunities for healing core wounds.

Remember how to love yourself, to feel the healing power of pleasure and it will offer you ways to expand your sexuality and orgasmic potential.

Allow you to see and deeply understand that sexuality and spirituality are one.

Offer you opportunities for deep healing around lost love, sexuality, grief, self love and mother and father wounds.

To shine a light on places where culture, religion and society has kept us from expressing who we really are.

Take part in powerful rituals that can bring deep healing and power reclamation.

It will ask you to consider what your life might look like, if it was not controlled by societies expectations, ego, family, fear, shame and guilt?

It will plead with you to know what it truly is to be a sovereign being.
"Can you imagine what it would be like to live at your optimal, efficient, vibrant, connected, and integrated state? Together, integrated, we begin to see what it means to be awake, empowered in community, and in service as Love in the world!"
Fequently Asked Questions
Who attends the Intensive?
Some people take this training for their own personal evolution, to gain a deeper self-connection and to enrich their relationships and empower their lives. Others are interested in exploring how it will add to their own professional life, whatever that may be, and some are interested in the professions of Sacred Sexual Practitioner or Sexuality Educator.
Attendees include those from the various spiritual paths and the sexual paths of celibacy, monogamy, and polyamory.
Couples, individuals and relationship groups of any formation are welcome, as are individuals of any sexual orientation and gender identity. The greater mix of prior experiences the richer the training! If it is your truth, it is possible to complete the entire training/experience without touching another person.
I ask you this question: Are you ready to jump off the edge?
We are so often at the precipice of something we have wanted to do, embody or achieve….and we remain at the proverbial cafe, sipping tea, peering over the edge looking at the unknown water below, searching with our mind for the answers. Of course, the mind has no real answers. And so we are afraid. We may let our feet leave the ground, but more often than not we return to our comfort zone…because we are too afraid to feel the pain…really feel it all the way…and enter the gateway of new possibilities. What if you could jump when your being, your heart, your spirit knew it was time to change? In this training you will come to a point where you can choose, completely and resolutely, without reservation, to fling yourself off the rock…..and transform your life. What's your edge? Are you ready to jump? What's getting in your way? To find out….come and do this training. It will take you to your edge, expand you and change your life forever.
What do I need to know?
No prior knowledge of shamanism or sacred sexuality is necessary and people with previous experience are welcomed.
What will I have to do?
Nudity and intimate touch are optional parts of this training. The cornerstone of this work is about consent, developing healthy boundaries and communication. You are always at choice and the facilitators will help you navigate what is authentic for you.
Three highly skilled Temple Arts faculty from around the world will teach, share, inspire, guide and bring light to the darkness in a serene and private retreat location.
Elaine Young
Elaine is a Sexuality, Tantra, Shamanic Breathwork & Bodywork Facilitator and Guide. She facilitates events for ISTA and her own offerings in London and overseas. Elaine has a busy private client practice in London.
Elaine utilises skills from more traditional Tantra, Shamanism, Transformational Somatic Sexological Bodywork  and Breathwork. She loves to work with the integration of sexuality & spirituality , the body, the mind and the soul energies. Elaine's work with clients often begins with reonnecting them to their body and their sexual energy.  She longs to support clients to live life as emotionally and sexually expressive beings.
She facilitates group sessions on Self Pleasuring, Breathwork, Genital Anatomy & Arousal, Body Orgasm, Womens Sexuality, Naked 3 Circles Rituals and Mindful Orgasmic Yoga. Her passion is for wholeness embracing the light and dark elements of sexuality, emotional release, ego freedom, embracing your inner warrior, reclaiming your power and creativity, Self Love, somatic sex coaching, integration of the masculine and feminine, reclaiming /intregation of your Shadow. www.thetantricshaman.com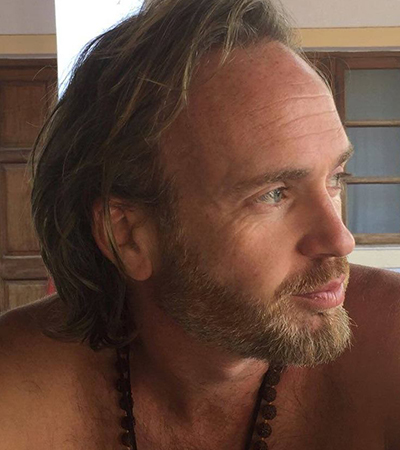 James Stevenson
James's passion is to help call forth our human potential from our soul. His offerings emerge from more than 18 years experience in techniques, practices and information from the cutting edge of Neuroscience, Tantra, Biodanza, Energy Work, Integral theory, Shamanism and Taoist practices to create a spirituality that is rooted in the body.
He takes an evolutionary approach towards spirituality which aims to help us integrate in various lines and as well as the stages within them, to be able to recognize and flow between states of consciousness and include all parts of ourselves to bring forth our fullest potential.
Shamanically he is a Vision Quest guide, and works ceremonially with different plants and medicine tools.
He is the organizer of the first Tantra Festivals in India and in America and now has a series of dance festivals celebrating spirituality, dance and biodanza across the world. He is a faculty member of ISTA and the Regional Organizer for Asia.
Catherine Hale
Catherine's work takes people into the depths of their being allowing them to discover the truth of who they are, through the exploration of their shadow. In this journey of the soul she guides them to return to the light so they can shine brighter and bolder and to be the love that they are.
With over 20 years of teaching experience Catherine blends the traditions of spiritual psychotherapy with shamanism, energy work and Tantra with body-based healing modalities. One of her joys is creating and working in ceremonial spaces, accessing the wisdom of plant teachers to facilitate transformation and celebration and using music to heal.
Her work with clients is about embodiment, taking people into the places where they have disconnected and reawakening their capacity to feel deeply. Here the connection between sexuality and spirituality is key, and supporting people back into pleasure is the pathway. Catherine has a passion for learning and is currently doing more trauma training with TRE (Trauma Release Exercises). She has been part of the ISTA Faculty for the last 4 years. www.tantricawakening.org
The training is held at a beautiful centre called Newbold house on the north east of Scotland. Founded by community from and set beside the famous findhorn foundation this wellness retreat centre has follows a philosophy of "Life Sustaining Culture" and has been hosting retreats for over 30 years.
Their centre retains the charm and grace and many of the original features of the late Victorian era, including our iconic and wonderful conservatory which offers a sun-lit oasis in which to sit on summer days, converse, eat a meal with friends or colleagues, sleep, put the world to rights. Surrounded by organic gardens and extensive woodlands there isr direct access to nature whilst still being within easy reach of local facilities and the un-spoilt Moray coast.
TRAINING PRICES
Normal Price: £1350 – Inclusive of food and shared accommodation at Newbold House
Repeater – £900 – Inclusive of food and shared accommodation at Newbold House
PAYMENT
You will need to make a £500 deposit to secure your place on this training. The rest being payable 1 month before the training starts. You pay this or the full price online now clicking the Buy Tickets below:
You can also make payment directly to our bank using transferwise.com from a range of currencies that will convert to pounds. If you would like more information please send a Facebook message to James Stevenson or e-mail: james.stevenson42@gmail.com
BANK ACCOUNT FOR TRANSFERS

James Stevenson
The Royal Bank of Scotland
Sort code: 831916.
AC/no: 00197221.
IBAN number is GB18RBOS83191600197221.
IBAN BIC is RBOSGB2L.
Previous attendees wishing to repeat the event or assist on the event please contact us as early as possible.