When:
November 15, 2018 @ 5:00 pm – November 18, 2018 @ 4:00 pm
2018-11-15T17:00:00+05:30
2018-11-18T16:00:00+05:30
Where:
Zorba the Buddha - India
7
Tropical Drive, Ghitorni, New Delhi, Delhi 110030
India

This 3 day retreat offers an opportunity for both men to find the growth and opening that can occur through working with members of their own gender. To expore the issues alive for men and how to align ourselves with our core and offer love and strenght to the world from this place. The first 2 and a half days will be working only with our own physical gender and staying in that polarity.
The culmination of the event on the last day will be a sacred re-unification ceremony where the men from the Divine Masculine and women from the Sacred Feminine workshop meet. It is important to say that this ceremony does not include sexual contact, rather it is about a deep recognition and honouring of the opposite physical sex and also about recognizing the qualities of the masculine and feminine inside of ourselves and honouring those parts and healing any wounds that might have existed around these.
It is a perfect introduction to the Tantra Festival that follows and will be a requirement to attend this event first before joining the tantra festival if one is not yet experienced in tantra because it will give the tools and integration needed for the festival.
This event allows you to skip the waiting list for men at the Tantra Festival.
This group is about men supporting men in being powerful, sensitive, authentic, open-hearted men they can be, so that they can share their deepest gifts with other men, women and the world.
Coming to this group is a choice to reclaim your individual manhood, to stand in the light of your own awareness as a man among other men as brothers. During this group we share practices and precepts to cultivate groundedness, sexual energy, confidence and sensitivity. We include our experiences on what it is to be a man, in particular in terms of sex and relating, and learn about the Tantric masculine way of being and how to integrate that into relating. We will also be teaching taoist sex practices which help with male sexual health and issues such as premature ejaculation and erectile dysfunction.
Anahata
Swami Anahata is a gifted, intuitive, passionate teacher of Tantra. He designs and delivers programs that guide people towards discovering and living their fullest potential.
He has dedicated the past 20 years to his own growth and self-discovery through Tantra and other holistic practices. His current work fuses practical learning with spiritual practice and is firmly grounded in the teachings of Osho.
Anahata blends Eastern mysticism and Western therapy in a way that makes his message universally accessible. His magnetic presence is compelling evidence of his ability to channel his own energy: physical, emotional and sexual, and is an inspiration to those who wish to become masters of their own. He inspires trust and his heightened awareness ignites a fire of awakening in his students. His programs are designed for individuals, couples or just men.
Swami Anahata is a trusted specialist. His sound knowledge and mastery of tantric rituals, methods and philosophy is infused by his warmth, his natural charisma, his gift for communication and essential understanding of what makes us human.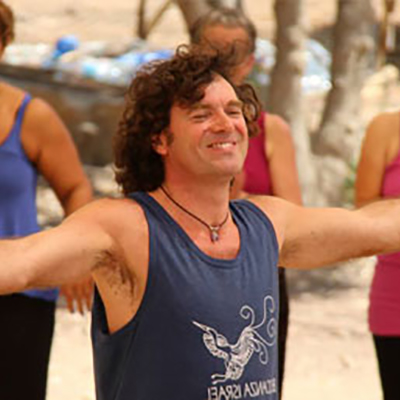 Niraj Skilbeck
Niraj leads the Dorset School of Biodanza and is skilled at opening people to many aspects of Tantra such as sensitivity, sensuality, touch, affection and transcendence. Using the medium of Biodanza, a series of dance, movements and exercises that create space for a deep experience within oneself and with others. Each workshop is led as a vivencia, a space in which words are dropped and the deep wisdom of the body is entered.
Niraj has been into Biodanza since 1997, leads the teacher training program, and is also trained in the Osho Humaniversity training. He also has specialisation certificates to teach Biodanza and the Four Elements, Biodanza in Nature, Biodanza and Shamanism, AquaBiodanza, Biodanza for Children, Biodanza and Massage, Contact Education, The Heart of Transformation, the Minotaur Project and the Argonaut Mission. He worked with Rolando Toro (the creator of Biodanza) directly on many occasions and have been involved in Biodanza in England, Scotland, France, Belgium, Holland, Italy, Austria, Germany, Czech Republic, Portugal, Greece, Slovenia, Thailand, New Zealand, South Africa, Denmark, Norway, India, Israel, the Canary Islands and Brazil.
The retreat is held at an eco village on the outskirts of Delhi called Zorba the Buddha. It is is held is a three-acre property that includes award-winning gardens, work studios, accommodations, a meditation hall, a common building, dance and performing arts hall, and outdoor performance spaces as well as many beautiful water features.
The buildings are in accordance with the ancient wisdom of Vastu, which harmonizes man-made structures with their natural environment. Click here to view the website
The retreat starts at 5pm on the 15th November and runs until 6pm on the evening of the 18th with an honoring Ceremony.

Residential Price: 20,400Rps includes accommodation and food.
Dates: 15th – 18th November 2018
Food includes 3 delicious and very healthy vegetarian meals a day – starting from Dinner on the 15th at 8pm, until Lunch on the 18th.
Venue Address is: Zorba the Buddha centre, 7 Tropical Drive Mehrauli – Gurgaon Road , Gitorni.  New Delhi – 110030 , India.
Go to Event Website
Visit the website to buy tickets and find out more about the event.