When:
November 23, 2017 @ 2:00 pm – November 29, 2017 @ 3:00 pm
2017-11-23T14:00:00+05:30
2017-11-29T15:00:00+05:30
Where:
Zorba the Buddha
Mehrauli-Gurgaon Rd
Ghitorni, New Delhi, Delhi
India

This revolutionary life empowering course supports a masterful direction of our primal life force and sexual potency and power to help deepen, embody & fully integrate, more respectful and vibrant relationship with ourselves and others.
Thousands of people on 5 continents have benefited hugely from this training over the past 10 years. You could be the next to receive the benefits as you join with other motivated individuals from a diverse background of experiences to create an intensely-satisfying learning journey, that will significantly impact your personal life, profession & direction.
Attendees include those from the various spiritual/sexual paths of celibacy, monogamy, and polyamory. The entire course is designed to support all individuals to find, feel, claim, and express their highest Life/Self expression.
Some people take this training for their own personal enrichment while others are interested in the profession of Sacred Sexual Practitioner or Educator.
Whatever your reason, it is a powerful immersion experience that awakens the healthy masculine and feminine energies and brings them into sacred relationship in the heart of each participant. It gives a taste of how life can be when the life force is flowing, and we are free to be authentic in the way we live and love.
This training is aimed at men and women who are dedicated to evolving consciousness hand in hand with its deepest embodiment so together as a group and as humanity as a whole, we play our part in heaven on earth.
Central to this is full presence, personal & transpersonal awareness, personal empowerment, emotional intelligence, sexual health & wholeness, and a lifestyle which honours the interconnectedness of all things. Embracing one's shadow is one of the cornerstones & methods of reclamation, that assists to fuel personal transformation, liberation & expanded potential.
You will receive coaching and hands on experience in the areas of: emotional release, voice dialogue, neurological reprogramming, conscious communication, rituals of initiation, energy tracking, exploration into boundaries and introduction of rituals of initiation and a powerful sexual clearing and activation processes.
No prior knowledge of shamanism or sacred sexuality is necessary and people with previous experience are welcomed. Couples or singles of any sexual preference may attend. The greater mix of prior experiences the richer the training!
NOTE: This event will be preceded by the 5th International Tantra Festival in India at the same venue – with these and other facilitators from across the world – if you join the training then you also get 10% off the normal training price you can find out more about this here.
Intentions, Invocation & The Art of Ritual
Authenticating the Moment – Showing up – Power & Presence
Ethics and Sharing
Creating and Holding Sacred Space
Identifying needs; Creating safety and Emotional support & Practice
Boundaries & Personal Empowerment
Giver/Receiver Practice & Responsibility
Moving from Transference & Projection to Authenticity & Sovereignty
Self-consciousness, Maturing Your Awareness,  Monitoring the Ego
Making and Keeping Agreements
Guidelines for working with Men, Women and Couples
Personal /Collective Sexual Wounds, shadow & Abuse
Monitoring & Owning Feelings – Power & Practice
Healthy & Unhealthy Masculine & Feminine Dynamics
Fear, Jealousy and Competition
Embodying the Divine Masculine and Feminine in the Full Range of Archetypes
Integration of Your Inner Masculine & Feminine energies – Sacred Relationship/ Sacred Marriage
Owning our Humanity, one's desires and the ability to manifest
Contra-sexual Awareness & Gender Play (Your Inner Masc/Fem Coupling)
Clearing Emotional Blocks – The Wounded Healer
Sexual Shamanic intelligence
Breath-work – Fire-breath -Rebirthing-Conception history
Anchoring, Grounding and Sustaining Healing Change
Healing Religious and Social Dogma and Sexuality
Control and Fear, Suspicion around Pleasure
Releasing Judgment /Finding the Path to Love
Empathic Listening and Touch
Session Demonstrations: Sacred Tantric Temple Practices
Male Sacred Spot; Female Sacred Spot; Erotic Bodywork and Kundalini Activation Demonstrations
"Can you imagine what it would be like to live at your optimal, efficient, vibrant, connected, and integrated state? Together, integrated, we begin to see what it means to be awake, empowered in community, and in service as Love in the world!"
Three highly skilled Temple Arts faculty from around the world will teach, share, inspire, guide and bring light to the darkness in a serene and private retreat location.
Elaine Young
Elaine is a Sexuality, Tantra, Shamanic Breathwork & Bodywork Facilitator and Guide. She facilitates events for ISTA and her own offerings in London and overseas. Elaine has a busy private client practice in London.
Elaine utilises skills from more traditional Tantra, Shamanism, Transformational Somatic Sexological Bodywork  and Breathwork. She loves to work with the integration of sexuality & spirituality , the body, the mind and the soul energies. Elaine's work with clients often begins with reonnecting them to their body and their sexual energy.  She longs to support clients to live life as emotionally and sexually expressive beings.
She facilitates group sessions on Self Pleasuring, Breathwork, Genital Anatomy & Arousal, Body Orgasm, Womens Sexuality, Naked 3 Circles Rituals and Mindful Orgasmic Yoga. Her passion is for wholeness embracing the light and dark elements of sexuality, emotional release, ego freedom, embracing your inner warrior, reclaiming your power and creativity, Self Love, somatic sex coaching, integration of the masculine and feminine, reclaiming /intregation of your Shadow. www.thetantricshaman.com
Laurie Handlers
Laurie Handlers is a film producer, sex educator, author, and intimacy coach. She holds a Masters degree in Education and a Bachelor's degree in Psychology and Sociology. Her career includes over thirty years as a corporate change consultant, individual empowerment coach and international seminar leader.
She is a dynamic speaker, facilitator and has taught transformational workshops for women, men, couples, singles, parents and teens since 1978 on techniques and secrets that are the basis of healing the body, releasing past emotional trauma, stopping the aging process, and reducing stress.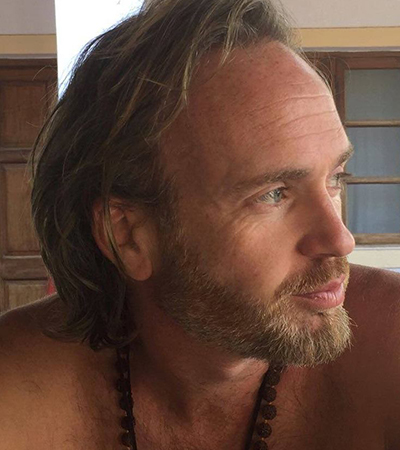 James Stevenson
James's passion is to help call forth our human potential from our soul. His offerings emerge from more than 18 years experience in techniques, practices and information from the cutting edge of Neuroscience, Tantra, Biodanza, Energy Work, Integral theory, Shamanism and Taoist practices to create a spirituality that is rooted in the body.
He takes an evolutionary approach towards spirituality which aims to help us integrate in various lines and as well as the stages within them, to be able to recognize and flow between states of consciousness and include all parts of ourselves to bring forth our fullest potential.
Shamanically he is a Vision Quest guide, and works ceremonially with different plants and medicine tools.
He is the organizer of the first Tantra Festivals in India and in America and now has a series of dance festivals celebrating spirituality, dance and biodanza across the world. He is a faculty member of ISTA and the Regional Organizer for Asia.
The training is held at an eco village on the outskirts of Delhi called Zorba the Buddha. It is is held is a three-acre property that includes award-winning gardens, work studios, accommodations, a meditation hall, a common building, dance and performing arts hall, and outdoor performance spaces as well as many beautiful water features.
The buildings are in accordance with the ancient wisdom of Vastu, which harmonizes man-made structures with their natural environment. Click here to view the website
Deluxe Double – 225 Euros for entire duration of training including food.
The deluxe rooms open to or have a view of the garden. It's a good sized room with one double and one single bed with an attached bath. Good for couples or two people sharing, both having a separate bed.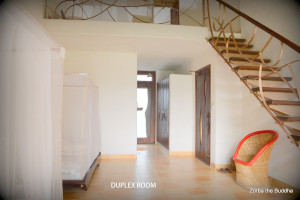 Duplex –  205 Euros for entire duration of training including food.
The Duplex rooms open to or have a view of the garden with an attached bath. It is split into two levels with one double bed on the upper level and two single beds on the lower level. Good for three people sharing, each having a separate bed.
Dormitory – 165 Euros for entire duration of training including food.

The Dormitory has the added appeal of being more social, as well as a price that makes it affordable to all.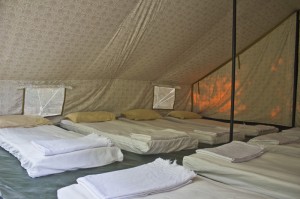 Tented Dormitory  – 135 Euros for entire duration of training including food.
Sleeping bags will be provided. Sharing with others in the Tented Dorm
Food includes 3 delicious and very healthy vegan meals a day – starting from Lunch on the 23rd at 2pm, until Lunch on the 29th. Arrival is possible at the venue from 10am on the 23rd and the course will officially start around 3pm. It is also possible to arrive a earlier or to stay on later at the venue – in fact there are many great events happening there so do check out their website. Booking is with them direct for this – email: reservations@zorbathebuddha.org with your accommodation preference and http://www.zorbathebuddha.org 
TRAINING PRICES
EarlyBird Prices(First 12 signups):
Indian Residents: £900
International Single: £1000
International Couples: £950

Normal Training Price
Indian Residents: £1050
International Single: £1150
International Couples: £1100
Repeater – £690
PAYMENT
You will need to make pay the full amount to secure your place on this training at this time – you can do this online now clicking the Buy Tickets below:
You can also make payment directly to our bank using transferwise.com from a range of currencies that will convert to pounds or pay the deposit direct to the centre if you need to pay in Rupees. If you would like more information please send a Facebook message to James Stevenson or e-mail: james.stevenson42@gmail.com
BANK ACCOUNT FOR TRANSFERS

James Stevenson
The Royal Bank of Scotland
Sort code: 831916.
AC/no: 00197221.
IBAN number is GB18RBOS83191600197221.
IBAN BIC is RBOSGB2L.
Previous attendees wishing to repeat the event or assist on the event please contact us as early as possible.
NOTE: This event will be preceded by the 5th Tantra Festival in India – with these and other facilitators from across the world – if you join the festival then you get 10% off the training as well you can find out more about this here.